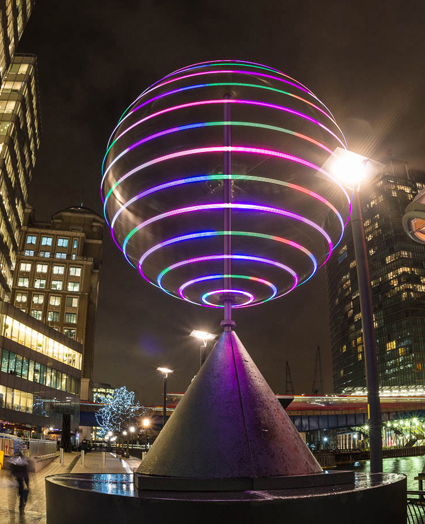 Winter Lights Canary Wharf 2015photo by Douglas Cape

Light Sphere I is my most recent large artwork - it's really a larger version of Green Ray but capable of full spectrum colours changes and pattern. It was commissioned by Canary Wharf Public Arts. The electronics were engineered by Adrian Godwin and we continue in the collaboration to develop programmimg new colour and pattern. This artwork is available for light shows and festivals for further information please email.

Below the video shows Light Sphere I at Winter Lights Canary Wharf 2015 - click here for the brochure pdf



video by Douglas Cape Z360 on Vimeo.

Below the video is first public showing of Light Sphere I at an event at the Evening Standard 1000 people in the Crossrail building at Canary Wharf. It was positioned under the open panel and of course it rained throughtout the evening. The video also shows the sculpture in Eureka, a science art show in Mile End with Adrain Pritchard's wonderful Osmosis Project.