Aurora I
Aurora I is an ongoing project which I've been working on for 10 years. After making a series of experimental versions, usually tested on my chimney at home, Aurora I is the cullmination. It is now highly engineered, tried-and-tested in gales and looking for a suitable siting. The idea behind the artwork is transforming the energy of the wind into light and colour. Aurora I generates electricity only when it turns, this powers the LEDs inmbedded in the fabric of the savonious windmill and changes colour as the wind speed changes. It was installed for the one day event with Kinetica Museum on the MS Stubnitz at Canary Wharf in 2014 but they allowed me to keep it their to fully test it in all kinds of weather conditions. Aurora is currently mounted on a long pole in my garden and is awaiting a few modifications to the electronics by Adrian Godwin so it can be a fully stand alone artwork.
AURORA I ON TEST IN MY GARDEN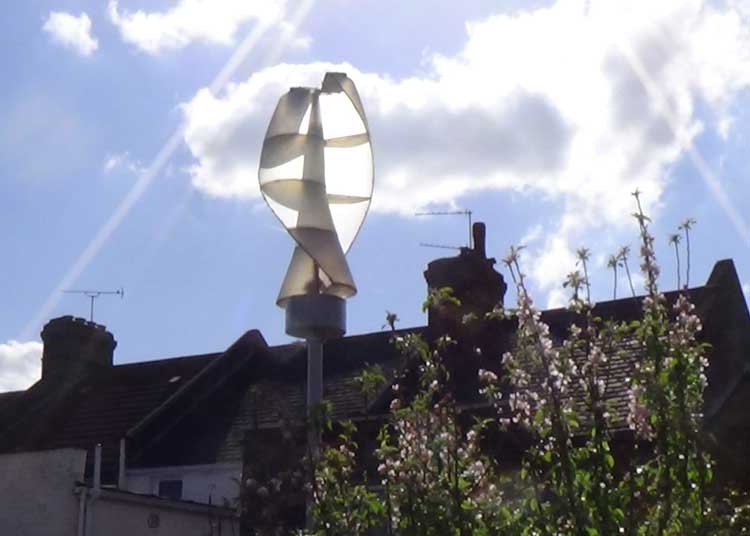 Aurora on test in my garden. (the rather clumsy solar panels on top will soon be replaced with more discrete ones, or possibly none at all)
AURORA I ON BOARD THE MS STUBNITZ
The owners of The MS Stubnitz, Blo and Heiko kindly allowed Aurora I to stay on board the magnificent ship for tests, while moored at Canary Wharf with the Kinetica Museum show. During this week of high winds (some gusting at 55mph) the sculpture has been thoroughly put though its paces.